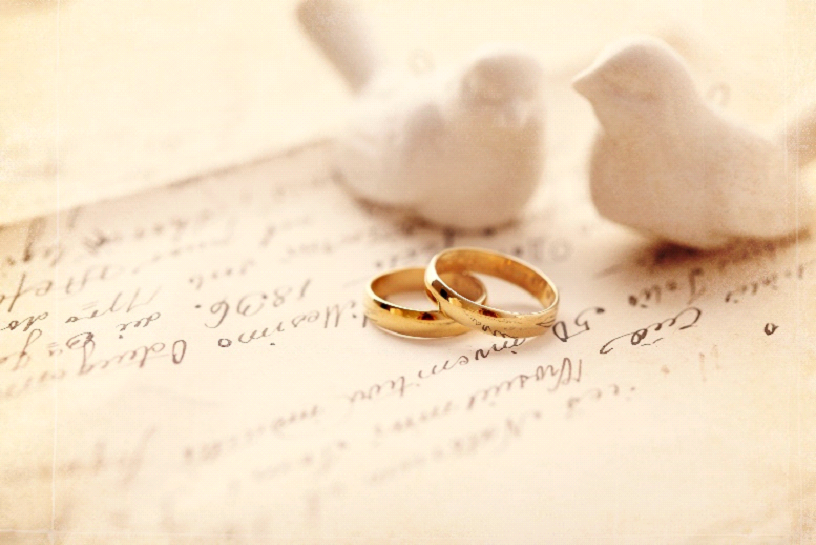 Top Financial Questions to Ask Your Spouse/Partner Before Getting Married
Wedding bells are in the air, your eyes are filled with love, and all you can think about is the special day when you say the words, "I do." It is a time in life where many feel as though they are inside a fairy tale. It's easy to get wrapped up in the euphoric feelings that typically come with being engaged. However, keep in mind there are practical matters that need to be addressed prior to walking down the aisle. If you don't take the time to do so, your fairy tale could quickly turn into a nightmare.
According to survey from AICPA where 1,157 U.S. adults living with a spouse or partner were polled, 73% said financial decisions have caused tension in their relationship, with more than a quarter (26%) stating that happens at least once a month. 40% of Americans who live with a partner or spouse said it's at least "somewhat likely" they'd end a relationship due to financial dishonesty. In another survey by the Cashlorette, owned by Bankrate.com, of which more than 1,000 people were polled, nearly half of Americans (48%) who are married or cohabitating with a partner say they argue over money. Finally, data released by TD Ameritrade found that 41% of divorced Gen Xers and 29% of Boomers say they ended their marriage due to disagreements about money. The statistics are clear; financial discussions must be had prior to marriage if you don't want to be part of these statistics.
Communicate
Talk openly about how each of you feel towards money. What are your thoughts on how finances should be managed as a couple? Are you a saver or a spender? Your overall attitude towards money likely has larger undercurrents dating back to childhood and your parent's financial habits. Once you have a complete understanding of each other's financial values/habits/preferences, you can establish some common financial goals.
Share
Take the time to share your individual expenses, income, saving's goals, credit score, and outstanding debt/obligations such as credit card bills, student loans, auto loans, child support or alimony payments. Create a joint list of this information. Also discuss any charitable contributions that are important to you. Go through the exercise of running credit report checks. Visit www.annualcreditreport.com so you both can know how each other's credit scores will impact the other.
Collaborate
Work together to determine if you have any overlapping expenses. Can you get a multi-member deal for the gym or family plan for your cell phones? Discuss expenses and income as a couple and create a joint cash flow spreadsheet. This will force you to address every category of your spending and generate discussion around savings goals and debt paydown strategies organically. Try www.mint.com as a budgeting tool. This is also a good time to decide whether you will have joint or individual accounts as well.
Many married couples prefer to have a joint account to pay typical household expenses from but maintain separate accounts for their discretionary spending. This may cut back on spending arguments. Jot down joint short-term, midrange and long-term financial goals. Revisit them yearly to gauge whether you are on track and/or whether they need to be modified.
Do you both have an emergency fund in place? If not, get started. A typical rule of thumb is to have 3-6 months of expenses tucked away should one of you lose a job, get whacked with an unforeseen large expense like a medical bill or car repair, etc.
Have you reviewed health insurance to determine who has the better plan? Does one plan offer lower premiums or a wider choice of doctors? Getting married is one of the life events that allow you to change your health insurance election without waiting for the open enrollment period. How about auto insurance? Does one carrier have better pricing than the other?
Have discussions around the future. Do you plan on buying a house? What is the preferred time frame? How about children? The cost of raising a child born in 2013 up to age 18 for a middle-income family in the U.S. is about $304,480, adjusted for inflation), according to an annual report from the U.S. Department of Agriculture (this does not include the cost of college). Do you both prefer public or private schooling for your future kids? Will you pay for their college education outright through saving in a 529 college savings account or will you only pay a portion and expect your child to shoulder some of the responsibility with student loans? Knowing what is required and having conversations regarding expectations and how each partner or spouse envisions saving for these goals is important.
Retirement is a huge topic for couples. What does that word mean to each of you? Do you both participate in retirement plans at work? If so, what is your current contribution rate? Are you contributing enough to get the company match? If not, why?
Who are your current beneficiaries on these accounts? Do you want to change them to your new spouse/partner?
With two incomes, it can be an excellent time to start saving for retirement, as well as save money on taxes at the same time. Keep in mind that marriage can result in higher taxes, especially when both individuals are high earners. Merging this money can push you into a higher tax bracket. However, combined deductions and other tax benefits may turn that dial back. Discuss with a tax advisor/CPA to avoid overpaying or underpaying and steer clear of any surprises come tax season.
You and your soon to be spouse/partner may have very different investing philosophies. Living through a time period ripe with market volatility can be very stressful, especially if you have opposing views of the market and opposite approaches. Talk about your risk profile. Are you risk averse, or can you stomach the ups and downs that typically come with riskier investments? It is important you understand where each other stands from an investing perspective.
Professional Guidance
Enlist the help of a Certified Financial Planner (CFP) ®. Sitting with a qualified fee-only fiduciary can help you and your soon to be spouse/partner gain clarity, strengthen communication, help you prioritize your goals, and provide specific strategies customized to your financial situation (needs, wants, wishes). Give us a call today at (410) 840-9200 to start the conversation or visit us at www.mainstadvisors.com.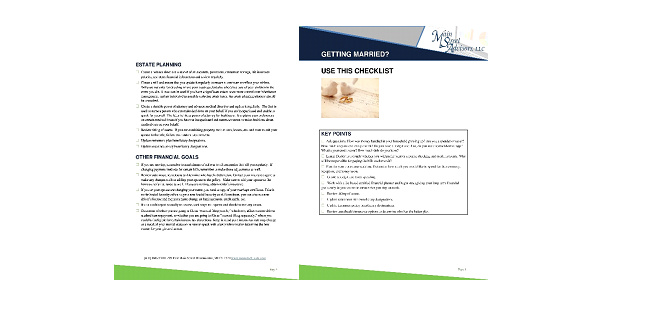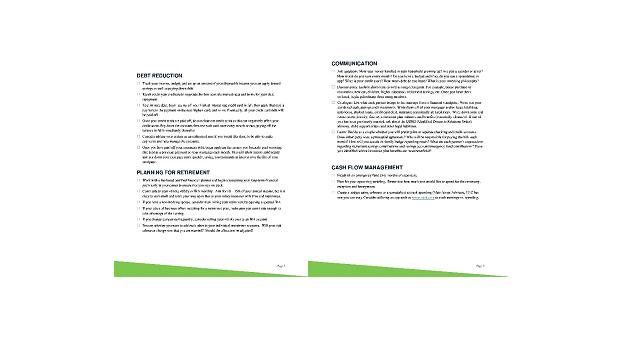 We also have a checklist available to share free of charge for those about to embark on marriage. Contact us to request a copy.
Sources:
Forbes. (January 2019). Six Financial Issues to Discuss Before Getting Married. https://www.forbes.com/sites/catherineschnaubelt/2019/01/17/six-financial-issues-to-discuss-before-getting-married/?sh=a99959436bbb
The Balance. (September 2020). Marriage and Money. Planning Your New Financial Life Together. https://www.thebalance.com/planning-marriage-and-money-1289663
Money Talks News. (April 2016). 10 Money Matters to Discuss Before Marriage. https://www.moneytalksnews.com/10-money-matters-discuss-before-marriage/
Kiplinger. (February 2021). Money Conversations You Should Have Before Marriage. https://www.kiplinger.com/personal-finance/602249/money-conversations-you-should-have-before-marriage
Journal of Accountancy. (February 2021). Why It's Romantic to Talk About Money. https://www.journalofaccountancy.com/news/2021/feb/financial-discussions-important-for-couples.html
MarketWatch. (January 2018). This Common Behavior is the #1 Predictor of Whether or Not You'll Get Divorced.
https://www.marketwatch.com/story/this-common-behavior-is-the-no-1-predictor-of-whether-youll-get-divorced-2018-01-10#:~:text=If%20this%20sounds%20familiar%2C%20beware,due%20to%20disagreements%20about%20money.

Main Street Advisors, LLC. March 2021. Main Street Advisors, Inc. is a Registered Investment Advisor. The articles and opinions expressed in this material were gathered from a variety of sources, but are reviewed by Main Street Advisors, LLC, prior to its dissemination. All sources are believed to be reliable but do not constitute specific investment advice. The views expressed are those of the firm as of March 2021 and are subject to change. These opinions are not intended to be a forecast of future events, a guarantee of results, or investment advice. Any advice given is general in nature and investors must consider their own individual situation. Always contact your financial/investment professional before making any financial decisions. Main Street Advisors, LLC is not responsible for any damages or losses arising from any use of this information. Past performance is no guarantee of future results.