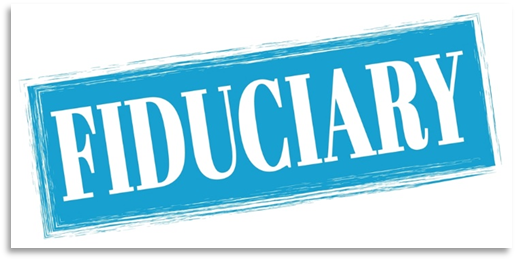 Is My Advisor a Fiduciary?
Main Street Advisors, LLC
When it comes to money, I think it is safe to say that we all want to grow and protect it. When choosing a professional to help achieve these goals, trust is paramount. There will always be dishonest charlatans and thieves who bring shame to the financial services industry. The trick lies in being able to identify the good ones from the shady ones, knowing exactly what you are looking for in a financial advisor, and understanding certain terminology.
Not all financial advisors are created equal. Some are held to a higher standard by the industry as a result of their credentials, some are paid only fees from their clients, and others receive commissions based on the products they are able to sell to investors.
There are two key terms worth understanding when determining whether the person providing you advice is a fiduciary: Fiduciary duty vs. Suitability standard.
Fiduciary duty
The Investment Advisors Act of 1940 states that an investment advisor (or anyone in the business of giving investment advice) has a fiduciary duty to their client. It requires that advisors must act in the best interests of the client. Registered investment advisors are required by law to act as a fiduciary. Certified Financial Planners (those who hold the CFP ® designation) are also required to act as a fiduciary per the Certified Financial Planner Board of Standards.  These advisors must do the following:
Place the client's interests above their own.
Seek the best prices/terms.
Avoid conflicts of interest. If a conflict of interest arises, disclose it to the client immediately.
Adhere to a duty of loyalty and care. Advisors are prohibited from using a client's assets to benefit themselves, such as purchasing securities for their own account before buying them for a client.
Do their best to ensure the advice provided is accurate and thorough.
Act in good faith and provide all relevant facts to clients.
Broker-dealer is a term used to describe a person or firm in the business of buying and selling securities for its own account or on behalf of its customers.  These individuals are not uniformly governed by a fiduciary duty. Instead, they must follow something called the "suitability standard" set by the Financial Industry Regulatory Authority (FINRA).
Suitability Standard
Brokers can sell financial products (like a mutual fund, annuity, or insurance contract) and collect a commission based on how much you buy or sell. The commission could be paid up-front at purchase, upon selling the asset, or on a trailing, continuous basis. Brokers are often employed by a broker-dealer, such as Merrill Lynch, Morgan Stanley, or Goldman Sachs.
The suitability standard means they must have a reasonable belief that an investment or transaction is suitable for the customer. "Reasonable belief" leaves a lot of room for discussion. It allows broker-dealers to recommend products that can increase their bottom line through commissions but may not necessarily be the best fit for you and your situation. Broker dealers must do the following:
Reasonably believe their recommendations are suitable for the client in terms of their objectives, financial needs, and specific circumstances.
Make sure transaction costs are not excessive.
Two important takeaways are obvious; broker-dealers are not required to put the client's interests above their own. They are not required to invest clients in the "best fit," but rather invest their money in something they consider to be "suitable."  For example, advisors who are not fiduciaries may recommend certain investment or insurance products that give them a higher commission, even if a similar product might offer you similar performance at a lower cost to you. A fiduciary advisor cannot do this.
Broker-dealers are now being held to a "best interest" standard, but it is limited to just when they are providing a recommendation. Registered investment advisors and CFPs are required to apply the best interest standard to the entire relationship because they are required to be fiduciaries AT ALL TIMES.
The best way to ensure you are working with a true fiduciary is to search for registered investment advisors who have certified financial planner designations.  The Certified Financial Planners Board has an advisor search tool available.
Searching for an advisor is like most things in life in that you will have different options to choose from. Three primary types to understand are below:
Commission – Only Financial Advisors
Commission-only financial advisors only make money when they sell investments or a certain financial product. They are often employed by broker-dealers and are only held to a suitability standard. The way they make money can include upfront sales fees; loads on mutual funds; commissions from annuities or other insurance products; a surrender charge on an annuity; or trailing commissions, in which the client pays a fee for each year they own an investment.
With regard to Insurance products some advisors may see commissions as high as 70% of the first year's premium and after that, may receive an additional 3% to 5% of the premium per year as long as the policy is active.
Advisors making commissions on mutual funds get paid via a trailer fee. This commission can range from 0.25% to 1% of the assets invested in the fund on an annual basis. The advisor may receive this fee for as long as the investment remains in the mutual fund.
Annuity commissions are generally built into the price of the contract. Commissions usually range anywhere from 1% to 10% of the entire contract amount, depending on the type of annuity. For example, fixed-indexed annuities can earn advisors a 4% commission.
Fee-Based Financial Advisors
Fee-based advisors may earn fees like fee-only advisors, but they may also earn commissions or referral fees. This can pose a conflict of interest, as the advisor can charge you for advice while steering you toward investment products they can profit from. If your advisor is fee-based, search for the brokerage's Form ADV filing with the U.S. Securities & Exchange Commission or visit https://adviserinfo.sec.gov/. You can usually find it on the firm's website as well. The document provides information regarding how brokers at the company are compensated.
Fee-Only Financial Advisors
Fee-only financial advisors collect all their revenues directly from clients and no other sources. It may be structured as a flat or hourly fee or as a percentage of assets managed. They do not earn commissions on investments, nor do they receive a fee when you buy or trade securities. They have fewer conflicts of interest than other advisors, but still must disclose any conflicts they do have. They are almost always fiduciaries and held to a fiduciary standard. Fee-only financial advisors are transparent.
What it all comes down to is trust.  Make sure whoever you work with is a true fiduciary, that you feel comfortable with them, that you agree with their investing philosophy, and that they look at your entire financial picture (not just your investments).  If you are interested in working with a fee-only registered investment advisor fiduciary, please contact us at 410-840-9200 or visit us at www.mainstadvisors.com.
Main Street Advisors, LLC. June 2023. Main Street Advisors, Inc. is a Registered Investment Advisor. The articles and opinions expressed in this material were gathered from a variety of sources, but are reviewed by Main Street Advisors, LLC, prior to its dissemination. All sources are believed to be reliable but do not constitute specific investment advice. The views expressed are those of the firm as of June 2023 and are subject to change. These opinions are not intended to be a forecast of future events, a guarantee of results, or investment advice. Any advice given is general in nature and investors must consider their own individual situation. Always contact your financial/investment professional before making any financial decisions. Main Street Advisors, LLC is not responsible for any damages or losses arising from any use of this information. Past performance is no guarantee of future results.
Sources:
Yahoo Finance. (May 2022). What Is a Fiduciary Financial Advisor?
https://www.yahoo.com/video/fiduciary-financial-advisor-172212355.html
Forbes. (July 2022). What Kind of Financial Advisor do you Need?
https://www.forbes.com/advisor/investing/financial-advisor/types-of-financial-advisor/
NerdWallet. (February 2022). What Is a Fiduciary, and Why Does It Matter?
https://www.nerdwallet.com/article/investing/fiduciary
NerdWallet. (January 2023). Fee-Only Financial Planner vs. Fee-Based: What's the Difference?
https://www.nerdwallet.com/article/investing/fee-only-vs-fee-based-planners
Barron's. (May 2022). What Is a Fiduciary, and Do I Need One?
https://www.barrons.com/advisor/articles/what-is-a-fiduciary-and-do-i-need-one-51652382854#:~:text=Fiduciaries%20typically%20charge%20a%20percentage,%E2%80%94with%20commission%2Dbased%20services.&text=A%20fiduciary%20is%20an%20individual,clients'%20interests%20before%20their%20own.
The Balance. (November 2021). What the Investment Fiduciary Rule Means for You.
https://www.thebalance.com/new-investment-fiduciary-rule-4140367